Monkey wonderland
44 Summer 553 (04 March 2004)
Oh my! A lot of time has passed since my last adventure report. I am sorry, but I am just unable to follow my duties. And all the reading is starting to hurt my eyes, so I am actually not learning lots... dooh. But I am still hoping to find to my former self one day again.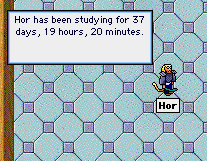 A warrior that spends way to much time reading...
Even when not being around much I was lucky enough to get invited for some MI action by Kishi. We handled the young sasquatches easily enough and even found an angry mother! (and not handled her!) But much more disturbing than the fierce enemies was the glint in the eyes of Aia as she judged my fur! And just because I had just missed one of the better skins... thank you too! 8)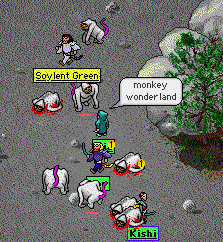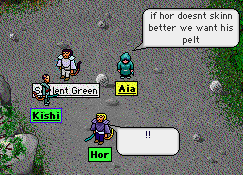 Missing a single skin causes greed? Yuk!
After we were done with the sasquatches we joined up with Kani and Ace and headed to the Cove. We had a very hard time in the snowy area, as the lyfe were really hard that night. Oh, and better ignore any talking trees that were jealous of our furs. It's just that fens are best suited for snowy hunting!
On the other hand we did not mind the quick chain of Omega as we got cold feet. 8) Thanks!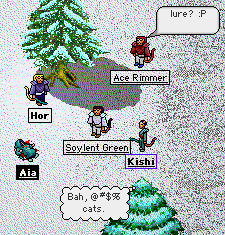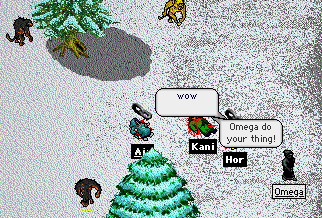 Talking trees and the usual rescue! 8)
Today I noticed two strange standing stones right north of the temple. Ok, these were hard to miss but I never seen them before. It seems that these were a memorial to remind us about the events twenty years ago, as the exiles fought in the ripture war. There are a lot of names engraved into the stone... I actually had heard of some before! May gaia be with all of them!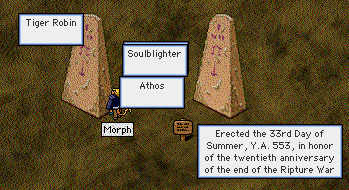 Memorial about a time I completely missed.
posted 2004-03-04 21:38:20 CET - 2 comments [Viewed 8193 times]