What is a Gungla?
02 Winter 553 (10 January 2004)
I tried to be useful lately and helped at a bunch of rescues. At one time half of town seemed to be at the dark temple, as there were several greater death waiting. (Yuk!)
And yet there was at the same time a small hunt going on below in the dark chamber. I was helpful there for a little while and we hunted that place for an hour or so.
A trip to MI was not so successful. A lot of folks were already fallen there to GCP and I thought I could do better. I could not. Thanks to Farhope who did save the day! 8)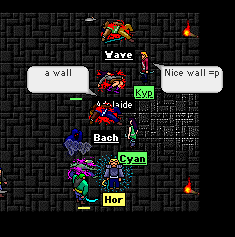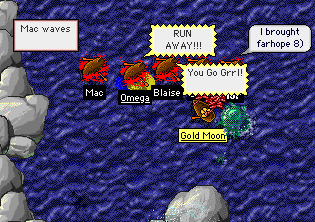 Helping (more or less) at rescues...
And for a bunch of good karma, some shares and lots of fun I agreed to help at a newbie undine hunt. Have not done that in a long time! It's amazing what some years of study can change. And it's great to have such nice new folks around, too!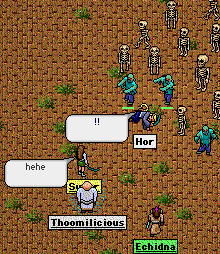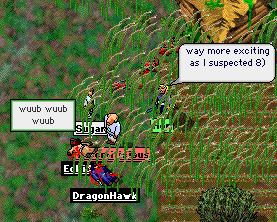 or bricking at newbie hunts...
Oh, and there have been real news recently! A new part of Melabrions island was discovered. The natives there name it "Gungla Island", so better get used to "GI" 8)
The voyage there is a bit dangerous, as very sharp rocks block the entrance to the shores - you need good skills to navigate. It also caused a good chain workout for me, as I got four unlucky exiles fallen in the waters. (Now you know why I hate water!! 8)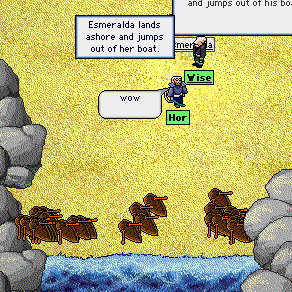 or discovering new islands...
On Gungla itself there was not so much to discover for me yet. That place was ridiculously overhunted and we hardly seen any critter! There is nice little village and we found some strange caves - but I usually just want to see nice furs. Perhaps next time! 8)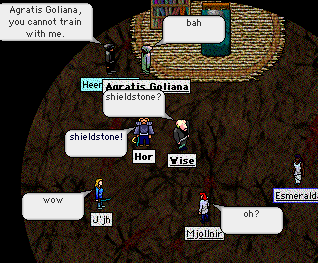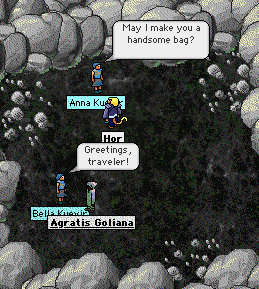 and not having a clue! 8)
posted 2004-01-10 17:28:22 CET - Add a comment [Viewed 7444 times]