Anyone can locate Agratis Haroon?
40 Winter 553 (19 January 2004)
I got a very nice invite from Tater! A powerful group was being assembled and I was asked if I wanted to skin along (no need to mention that I was not one of the powerful ones! 8). I was even more suprised to find that Agratis Haroon was considered a crucial member of the team, too!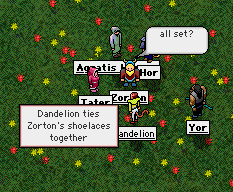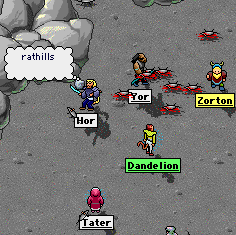 On route to kill some rats!
We had a lot of fun and thanks to Yor we even survived without to much effort *cough*! (Also thanks to Zorton who had his finger on the escape-teleport-trigger all the time! 8) We found it also very amusing that folks in town saw that Haroon fell to a Midnight Wendy and got a bit puzzled 8)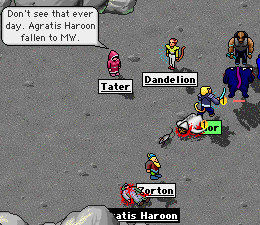 To go where no Agratis gone before!
However, the fun quickly stopped! Zorton made some strange chants and a moment later I found myself up to the knees in a puddle! And I put great care in not getting wet. And the others not even hid their laughter! Dooh. No more skins! Thanks! (Well, I am better by now. No worries 8)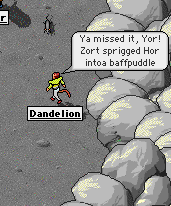 Yikes! Mystic power abuse!!!
Oh right, we came home savely from the foothills! With a wet fur and full purses! 8) Lots of thanks to the fun group!
And some days later I noticed that the forester Kolli is back! To celebrate we went to the usual edarian places like lily pond and the rocky cavern. Nice action all! (I skipped the part where I fell to a fierce large sand worm. You can forget that now, too! 8)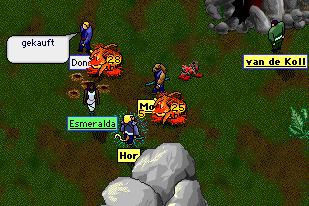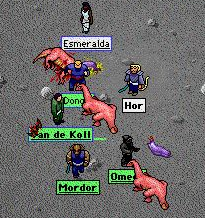 Edarians at large..
posted 2004-01-19 22:05:51 CET - 1 comment [Viewed 7641 times]