Return of the Unexpected
62 Winter 559 (06 July 2005)
Been away a while...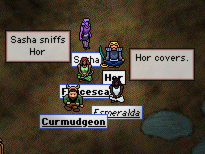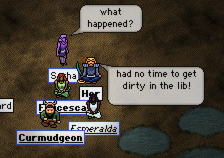 Smell check? Mostly dusty!
Later a fair sized group went to Melabrions Isle (its still there!) where we had some nice fun with coins. Among the things you never forget is skinning. Some time later I had the luck of being invited to a valley hunt. It's been a while since I was in the valley, but I remembered it as much harder. Disturbing as it is, Drawclaw told me that I am now pretty strong. 8)
We had some great fun and killed a horde of sasquatches and cougars without to much trouble. (Missing a 118c skin was painful, but I got a lot of others! Yay!)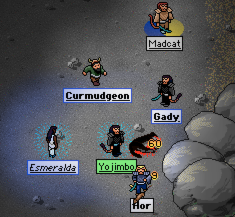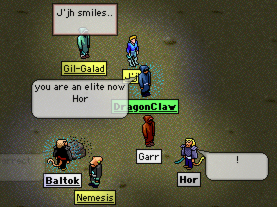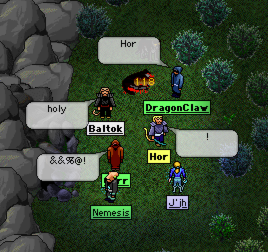 But getting coins (or not) is still great fun!
After that exhaustive hunting I was trapped inside the lib again. Now for really long! Oh my! Tara seemed to believe my explaination this time, guess she smelled it, too 8)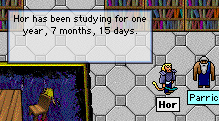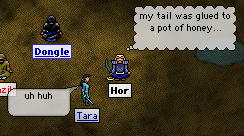 Ok, being away a bit more! (but for a good reason 8)
Actually Tara and Dongle took me with them and we went into the gardens and jumped into the portal. I had no idea where we were going to - I just realized that some Fury was right there when I came out deep red of the portal. Luckily the times where I had fear from these beasts are over. 8)
It turned out that we were in Camp Dred! I hunted there once or twice, and it was a long long way. Now we were there, just the three of us, within the blink of an eye.
Even our group was small, we were pretty devasting for the orgas. We cut through the snells and made also great coinage. And it was great fun! Really thrilling to run though a storm of lighting and not dying thanks to Tara. Har!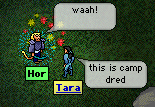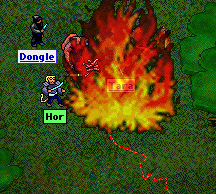 And right into fast paced action! Yay!
Right at the end of our hunt I fell so unlucky, that Tara was not able to raise me. Well, the short trip home on a chain was not unfamilar, and a worty conclusion of that impressive trip! Lots of thanks to both of you! And thanks to the hordes of Death Vermines which had such a pretty fur! 8)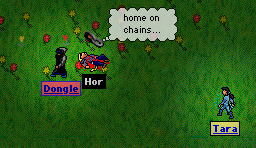 Including a taxi home 8)
After that piece of action I decided to visit Cerberal again. Its now almost 7 years since I passed the 4th circle. And he thought as well that I was ready for 5th myself. Well, the short story - I failed. It was close, but nevertheless its a bit embarrasing 8) Next time for sure!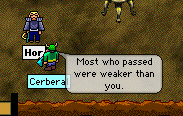 Uhm? Are you joking?
posted 2005-07-06 09:48:25 CET - 2 comments [Viewed 1390614 times]